Exciting New Product - Dermalogica Biolumin C Gel Moisturiser
Tuesday, 24 August 2021 | Admin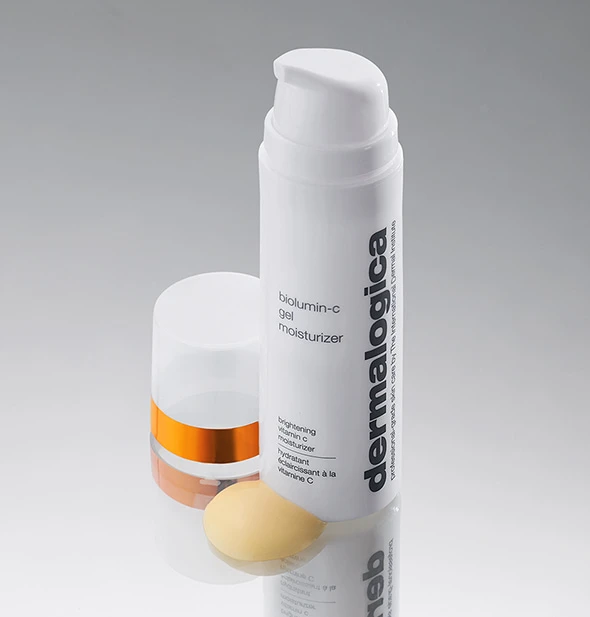 Introducing the new BioLumin-C Gel Moisturizer from Dermalogica, a weightless, Vitamin C rich gel moisturizer that delivers immediate brightening results on the skin. We caught up with Dermalogicaís Education Manager Victoria Evans to find out all about it!
As we all know, Vitamin C is a potent antioxidant with multiple skin benefits. It firms, brightens and increases your skinís natural defences from environmental elements that can cause premature skin ageing. The challenge though, it that Vitamin C is notoriously tricky to formulate with. Itís highly unstable, meaning it gets used up or Ďoxidisedí within the bottle. Itís highly susceptible to degradation by light, heat and air. You may have noticed your Vitamin C serum turn brown or start to smell funky, this is a result of the Vitamin C oxidising. The problem here is that youíre not getting the potential benefits in the skin where you need it, so you might be dissatisfied with the results on your skin.
At Dermalogica, we looked at the need to stabilise Vitamin C in our formulas to ensure efficacy and achieve noticeable skin results. We use two forms of highly stable Vitamin C within our BioLumin-C products. We carried out clinical studies comparing our Vitamin C products to a leading competitor which showed our formula delivers 3 x more brightening and 3 x more Vitamin C into the skin.
BioLumin-C Gel Moisturizer is a daily use moisturizer that provides weightless hydration and gives skin a radiance boost. Proven to instantly brighten and hydrate skin better than leading competitors!
Dermalogica is very excited about the launch of this brand new Biolumin-C Moisturiser because it delivers above and beyond most vitamin C creams:
* Brightens instantly and overtime with our boosted ultra-stable Vitamin C complex.
* Hydrates for more luminous skin with Squalane and five types of Hyaluronic Acid to provide long-lasting hydration. Plus, the Verbascum Thapsus Flower Extract, also known as the Bioluminescence Flower, transforms UV rays into visible light creating instant luminosity.
* Renews for a natural glow with Phytic Acid and Pumpkin Enzymes that gently exfoliate for an even-toned complexion.